The Awareness Workbook for 
Victims of Domestic Violence and Stalking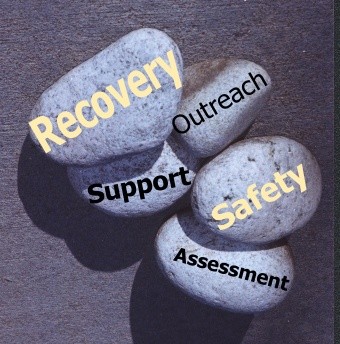 About This Workbook 
This workbook was developed by the Child Rescue Foundation, Inc. The purpose of this guide is to assist adults and children impacted by family violence in their recovery to a more safe and peaceful way of living. This guide is intended to be used by professionals that support domestic violence victims and for victims who want to empower themselves with some tools necessary to stop the cycle of family violence, and to regain safety in their lives.
The following information can found in this book:
Signs to recognize domestic violence, stalking and cyber stalking

Ideas for creating safety plans that can assist you and your family

Techniques for being a credible witness

Tools for immigration, name change, and other items necessary for safety

Weekly road map for recovery guides

Worksheets, suggested action plans, motivation materials, and chapter concept reinforcements
With any drastic change of life, set backs are common. Feeling alone is a normal part of the process. However, each recovery process is unique. You will find weekly-suggested guides, exercises, reading materials, daily affirmations, worksheets and support statements from others who have gone before you. Feel free to keep it with you, and a copy with a trusted individual. Take this guide and use it to keep focused on the positives that lie ahead. Remember to always seek the professional help of police, victim's advocates and therapists when needed.
Victims Workbook / Seminar
The Awareness Workbook for Victims of Domestic Violence and Stalking is 146 page step by step manual for children and adults seeking to recover from domestic violence.
Target: All Victims of Domestic Violence
Length: 2 hour training
Cost: $150.00/per book (includes training Colorado only)
Out of state $75.00 CDROM $45.00
Book Order Form
We appreciate your request and interest in the Awareness Workbook for Victims of Domestic Violence and Stalking ™, published and written by the Child Rescue Foundation, Inc., located at PO Box 102319, Denver, Colorado 80250. The Board of Directors and the Security Division of CRF, Inc. reviews all acquisitions requests weekly. Because of the sensitivity of the material in these workbooks, care and attention are given to requestees so that requests are handled and delivered to qualified individuals working in the domestic violence/provider/victim advocate/medical/legal and justice fields. Please allow 2 weeks for the review process and background check, and 2-3 weeks for shipping and handling. Use the following form to make a book acquisition request. Please fill out the form as completely as possible. Please direct any questions or comments to J. Kappel @ childrescue97984@aol.com
Workbook $75.00 – CDROM $45.00 – SH $15.00 Send check or money order to: Child Rescue Foundation P.O. Box 102319 Denver, CO 80250
Visa, Mastercard and Discover gladly taken.

Please call: 303-628-0477 for processing information.
Download the Awareness Workbook for Victims of Domestic Violence and Stalking for free from Part Five: Managing your case
Table of Contents
The Awareness Workbook for
Victims of Domestic Violence and Stalking
Part One – Domestic Violence
Chapter One – Identifying Domestic Violence – 14
Chapter Two – Identifying Precursors to Violence – 20
Chapter Three – Children and Domestic Violence – 27
Chapter Four – Dating Violence and Abuse – 46
Chapter Five – Safety Plan – 49
Chapter Six – Domestic Violence Review – 58
Chapter Seven – Introduction to Stalking – 100
Chapter Eight – Coming to Terms with a Stalking Relationship – 118
Chapter Nine – Getting out of a Stalking Relationship – 123
Chapter Ten – Cyberstalking and the Law – 127
Chapter Eleven – Safety Plan Taking Action-127
Part Four – Recovery
Chapter Twelve – Paper Layers – 138
Path 1: Understanding Trauma – 142
Path 2: Journal: Reflection on Feelings- Choosing Survival and Recovery-154
Path 3: Establishing a Support Network- 150
Path 4: Good Parenting-160
Path 5: Emotional Make Over-189
Path 6: Getting on with it/Dealing with fear
Path 7: Stepping Forward into the Light 208
Path 8: Forgiveness 209
Path 9: Finding the Path of the Peaceful Warrior 211
Path 10: Reaching out to help another-222
Path 11: The new Mirror/Freedom-223
Chapter Twelve – Paper Layers: a book on abuse to recovery from The Child Rescue Foundation-225
Part Five – Managing Your Case
Chapter 13:Enforcing the Law -260
Chapter 14: Managing Your Case-273
Chapter 15:Domestic Violence in the Workplace 292
Tips for Employers, Workers and Friends of the Victim 292